One of the most unique oceanfront estates with mountain views in a private, gated community.
LOCATED IN THE PRIVATE COMMUNITY OF EL MADRONHAL, IN THE HEART OF A DREAM ENVIRONMENT.
Surrounded by green areas and perfectly situated on the crest of a hill, this immaculate Cortijo style villa offers peace, tranquillity and maximum levels of privacy. Located in the private gated community of El Madroñal, within a short drive to an amazing selection of amenities, 5-star restaurants, bars and the famous Marina of Puerto Bañus it is the ideal resting place to enjoy the natural beauty of the Andalusian nature.
The entire villa is built around the most gorgeous internal courtyard with peaceful sounds of the water fountain creating a relaxing environment. The right wing on the ground floor harbours 3 guest bedrooms all with en-suite bathrooms and direct access to the courtyard and/or their own private terraces with open sea and mountain views. On the left wing you will enter a large open lounge area with direct access to the gardens with a large covered outdoor lounge area, swimming pool and tanning loungers.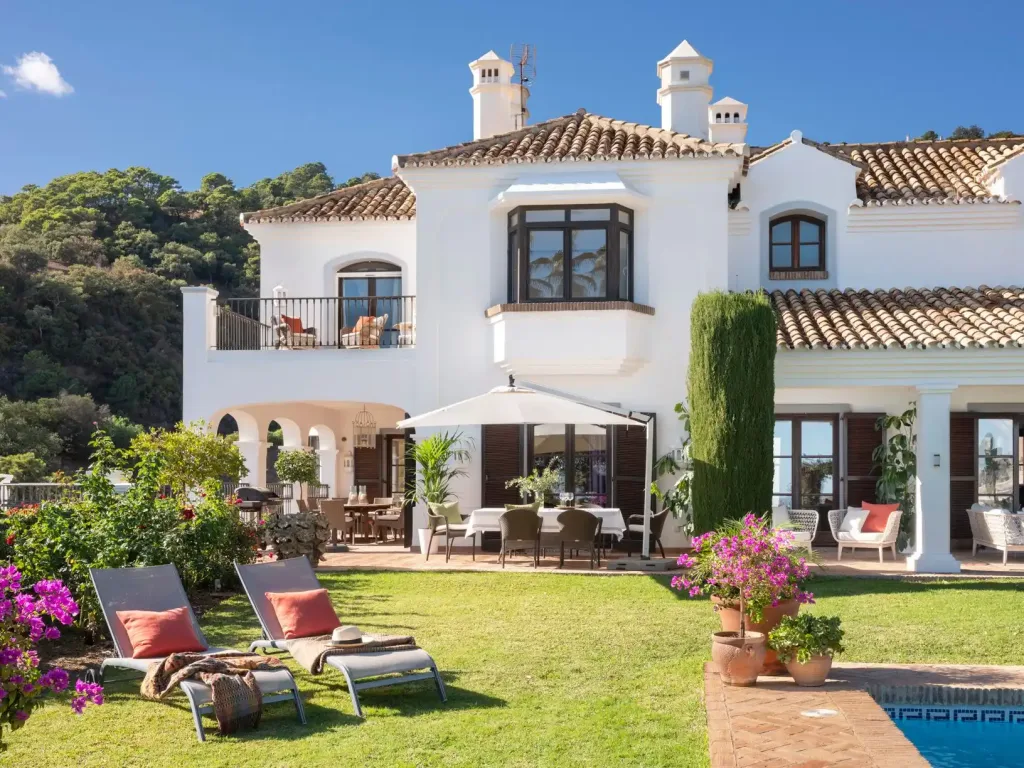 Not to be missed by anyone who dreams of owning an extraordinarily beautiful Spanish home with space and serenity, pools, courtyards, arches and fountain, near to everything.
All this spacious, streamlined elegance lies under an authentic terrazzo-tiled roof, amidst waving palms and bright bougainvillea, with a sunny pool and mesmerizing views of blue sea and soaring mountains. 
Within a short drive reach an amazing selection of boutiques, watering spots and celebrity hangouts around the Marina of Puerto Bañus. If you prefer a village setting drive drive  inland to Benahavis village for possibly the best kept secrets in Spanish dining.
A journey through this villa haven
Drive in through the impressive wrought iron gates on a cobblestone driveway lined with cypress trees. An authentic antique wooden door welcomes you into the entrance hall with a large open fire place and impressive staircase.
The entire villa is built around a gorgeous internal courtyard.  The enchanting tinkle of the water fountain lulls you into a peaceful mindset as you relax in the shade of a vaulted covered patio.
From the cool and pleasant courtyard, enter a lounge with awesome soaring ceilings. The lounge opens up to the garden.  Wander out to the sparkling pool flanked by a large covered lounging area and breathtaking sea and mountain views.
Or head from the central lounge into the main dining room – perfect for formal dinners or big family mealtimes. For grill parties and outdoor meals, step from the dining room out to an open patio poolside or a covered patio where the BBQ is found.
One of the very charming features of this exceptional home is its very large country style kitchen, which interleads with the dining room and a family room and covered patio with stunning sea and mountain views. It also leads out onto the internal courtyard.
Another wow feature is its master suite which takes up the entire upper floor. This master bedroom is one of the largest you will find in Marbella with a large private lounge area and open fireplace, as well as a large terrace with beautiful sea views overlooking the undulating valley and Andalusian coastline all the way to the Atlas Mountains of Morocco. A large bathroom with a double shower and whirlpool is adjacent to a sizable walk in closet. The suite is reached by the main staircase from the entrance hall.
A small staircase in the right wing leads up to an additional guest suite in the tower, which has a terrace with mountain view. Three more guest bedrooms are reached from the courtyard. They lie in the righthand ground floor wing. All have ensuite bathrooms, and one has its own private terrace with fountain. 
On the lower level, you will find a sophisticated Spa comprising a large heated indoor pool, nail bar, massage room, steam bath, full bathroom, gymnasium, large sauna with panoramic views, outdoor ice plunge pool, large relaxing lounges, entertainment room, bar, TV room and an additional bedroom has access to a separate bathroom which is shared with the entertainment and bar area. The large laundry room is also found hidden away on that level.
Another level lower is a fully equipped apartment suite with outdoor space, lounge, dining, kitchen, bedroom and bathroom which can accommodate the service staff through a separate access.
As the property is built on a steep slope all the lower levels are above ground with views on one side and built into the slope on the other.
On the plot you will find an array of different trees as well as very large fruit bearing avocado trees (the best ever!) and you can collect your fresh eggs from the chicken pen situated on the lower part of the property.
Note that there is still available space on the property to build an additional dwelling or tennis or padel courts.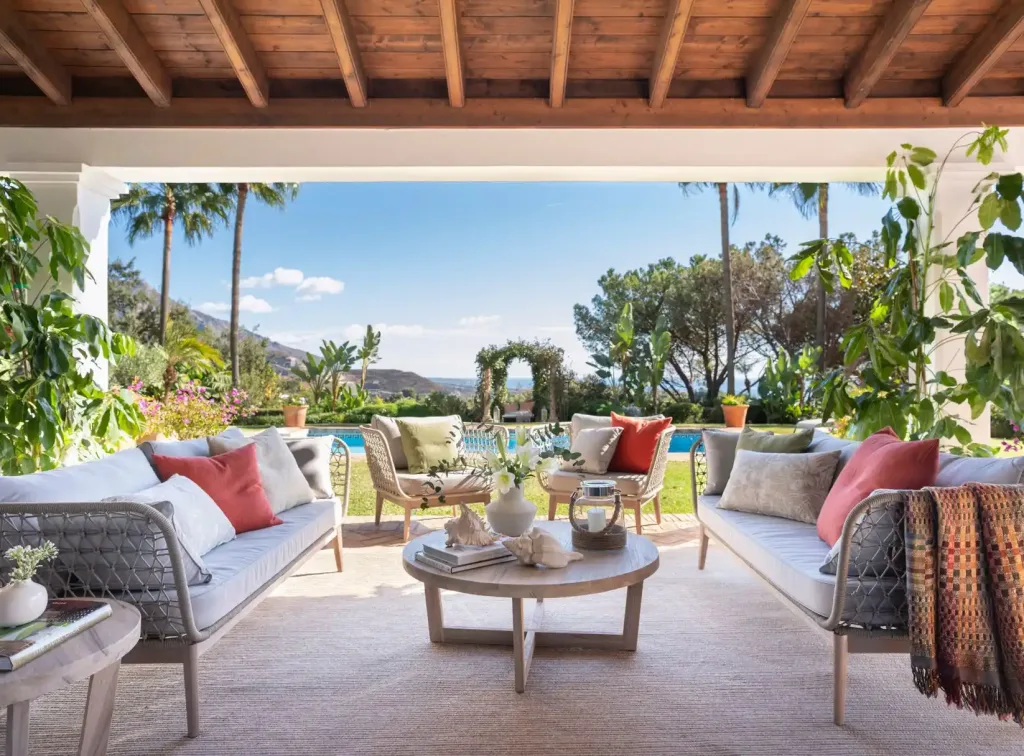 Download our brochure for more detailed information on this stunning Ocean and Mountainview property.